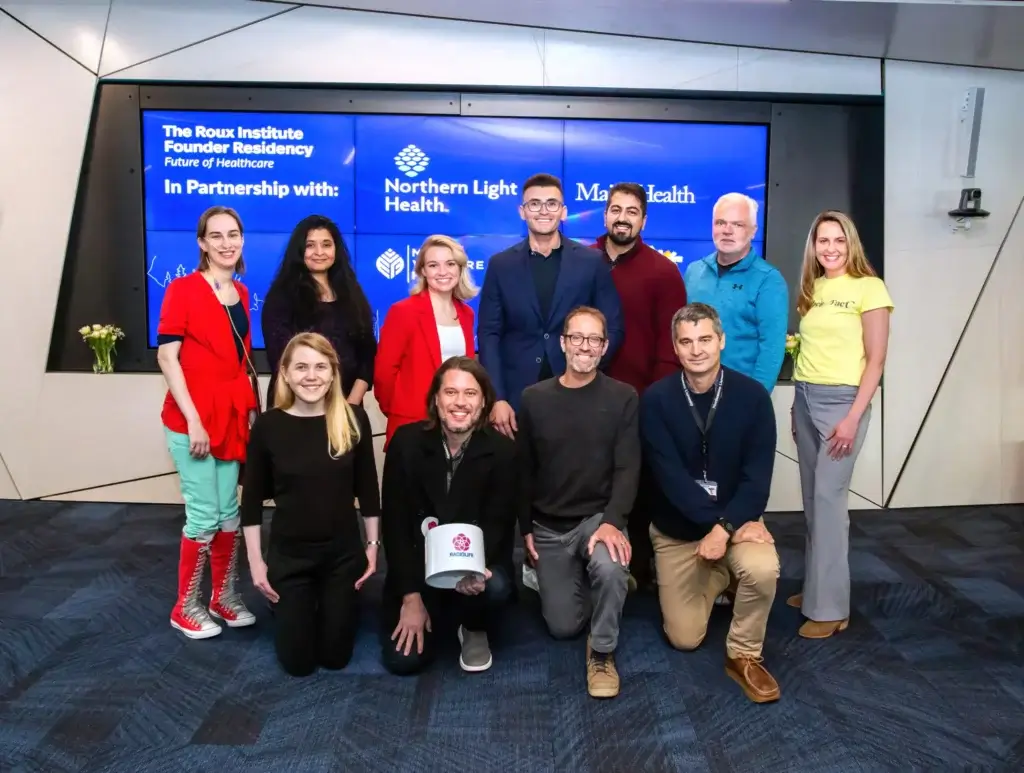 From left to right top (company – Name) : Jen Schlegel (119); Aarabi Balasubramanian (EmTech Care Labs); Bronwyn Bridges (PragmaClin); Kamyar Firouzi, (Althea Health); Sina Moghadam (Althea Health); Des Regan (Stratos ); Emily Sylvester (Mother of Fact); from left to right bottom: Claire Beskin (Empallo); Sergio Ribeiro (Radiolife); Ken Shapiro (Apriqot); Kevin Konty (Apriqot). Photo by Tim Greenway
We're thrilled to announce that Radiolife has been accepted into the Future of Healthcare Program, a prestigious healthcare innovation initiative offered by The Roux Institute at Northeastern University.
The Future of Healthcare Founder Residency, a year-long program, is part of The Roux Institute's mission to foster healthcare innovation and entrepreneurship in Maine. This innovative program is supported by leading healthcare providers, Northern Light Health and MaineHealth, along with the Maine Venture Fund. The goal is to catalyze a thriving healthtech ecosystem in Maine, benefiting patients and caregivers while offering a boost to the health tech industry.
Radiolife is one of the nine companies selected for this exclusive program. These companies, representing diverse backgrounds from three countries and five states, share a common focus on groundbreaking healthcare solutions. From artificial intelligence-powered virtual healthcare assistants to innovative medical devices, this cohort is set to make a significant impact on healthcare.
Our participation in the Future of Healthcare Founder Residency aligns perfectly with our mission to revolutionize diagnostics in healthcare.
As part of this program, each company receives a $50,000 investment, providing the necessary resources to accelerate innovation. But it's not just about funding. The real value lies in intensive workshops, expert mentorship, and deep institutional support. The Roux Institute is fully integrated with the startups, offering more than a traditional business curriculum. Instead, the focus is on real-world experience and access to a vast network of healthcare experts, regulatory advisors, successful founders, and legal support.
Furthermore, the co-located workspace on the Portland campus fosters a collaborative atmosphere. This collaborative environment enables our startups to work closely with healthcare partners, receive feedback, and even launch potential pilot projects, thus speeding up innovation.
We're excited to contribute to this innovative healthcare community and are proud to be part of The Roux Institute's vision to transform the healthcare landscape. This program is a win-win-win for The Roux Institute, healthcare partners, and the startups involved. It's also an exciting opportunity for students to gain valuable experience by working alongside healthtech innovators.
Radiolife is eager to leverage this opportunity to bring our groundbreaking diagnostic solutions to the forefront of the healthcare industry. We believe our work can significantly improve patient care, reduce healthcare costs, and drive innovation in healthcare.
The Future of Healthcare Founder Residency represents the commitment of Maine Venture Fund to fund 30 healthcare companies over three years. We're thrilled to be a part of this initiative and its potential to elevate the healthcare system in Maine and stimulate the broader Maine economy.
The residency program has the potential to become a model for other states looking to invest and innovate in the healthcare sector. The Roux Institute's unique role as a convenor for key healthcare players in Maine offers valuable lessons for other regions.
Radiolife and our fellow startups in the Future of Healthcare Founder Residency are ready to tackle the most pressing healthcare challenges and pioneer innovations that will shape the future of healthcare in Maine and beyond.
Meet the Companies:
– Althea (San Jose, California): Developing an artificial intelligence virtual healthcare assistant to ease staffing and burnout for healthcare providers.
– Apriqot (Scarborough, Maine): Creating a community magnifying glass that produces dynamic population health estimates to address health outcome inequities.
– Empallo (Boston): Focusing on personalized treatment plans for patients with cardiovascular diseases using machine learning models.
– EmTech Care Labs (Portland, Maine): Developing a digital platform, Care-Wallet, to assist families in managing home-based long-term care.
– Mother of Fact (Langdon, New Hampshire): Providing a digital health platform to women's health clinics, connecting patients with registered dieticians.
– PragmaClin (St. John's, Newfoundland and Labrador, Canada): Offering a cloud-based patient monitoring and assessment tool for neurologists to assess the progression of Parkinson's Disease.
– Stratos Medical (Galway, Ireland): Working on its first product, TrackSmart, to make vascular access easier and less damaging during hemodialysis sessions.
– 119 (Ohio): Developing a communication tool to guide bystanders through appropriate responses in emergency situations.
Radiolife is honored to be a part of this remarkable journey, and we look forward to the innovative collaborations and groundbreaking solutions that will emerge from the Future of Healthcare Founder Residency. Together, we'll revolutionize healthcare, improve patient outcomes, and make a meaningful difference in people's lives.
Stay tuned for more updates and innovations from Radiolife as we embark on this exciting journey!
The Roux Institute's Future of Healthcare Founder Residency to jumpstart Maine's health tech industry